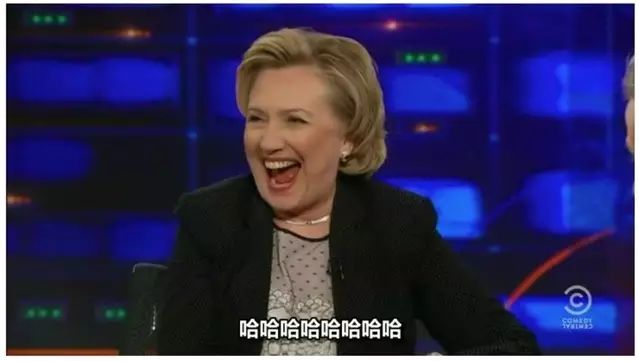 #囧司徒每日秀#【希拉里"宣布"参加大选】美国前国务卿&前第一夫人希拉里·克林顿做客每日秀宣传新书。囧叔逼她表态是否参加2016总统大选,希拉里却不肯直说。于是囧叔对她进行"职业倾向测试",终于问出了结果[哈哈]希大妈杠铃般的笑声真是令人过耳难忘..
【英文transcripts】
JON STEWART: Welcome back. My guest tonight, she was Secretary of State from 2009 until 2013. Her new memoir is called "Hard Choices." Please welcome back to the program Secretary Hillary Clinton. Secretary. Nice see you. I'm very excited. How are you?
HILLARY CLINTON: I'm great. I am absolutely great. How are you doing?
STEWART: I'm doing very well.
CLINTON: I could see that.
STEWART: Here is the book that you have written. This is called "Hard Choices." It's clearly…
CLINTON: A lot of hard choices. A lot of hard choices.
STEWART: Not for your editor. Look at that baby.
CLINTON: The real story is that it was even longer.
STEWART: Was it really?
CLINTON: Oh, yes. Well there was just so much that happened in those four years.
STEWART: Sure.
CLINTON: And I was trying explain it, kind of pull the curtain back, so people could get an idea what we were doing in the world, and I wrote much more than that, if you can believe it. So this was like take the whip out and take the scalpel and cut it down.
STEWART: It's an incredibly, I think complex and well reasoned and eyewitness view to the history of those four years. And I think I speak for everybody when I say, no one cares, they just want to know if you're running for president.
CLINTON: Well, you know…
STEWART: Are you? Are you running for president?
CLINTON: Jon, I was going to make an announcement, but I saw… You kind of spoiled it for me.
STEWART: No, no, no. So that's a yes. That's yes.
CLINTON: The big spoiler. So I'm just going to have to reconsider where I go do it.
STEWART: Sure. There was a little confusion here. You know what I see here? Can I tell you what I sense?
CLINTON: Please, please do.
STEWART: A little confusion. You know, it takes me back to my days post-college. Let me… You know, there are ways that we can decide whether or not… I have it's like a career aptitude test and it can help you.
CLINTON: This is good. I'm ready.
STEWART: So do you… Let me just ask you, because this is going to help you sort of hone in on if you want to even do this job. Let me ask you a question. Do you like commuting to work or do you like a home office? What's you're…
CLINTON: You know, I've spent so many years commuting; I'd kind of prefer a home office. That's where I wrote my book. It was on the third floor of our house, so that works.
STEWART: Do you have favorite shape for that home office? Do you like that office; let's say would you like that office… Would you like it to have corners or would you like it not to have corners? I don't know.
CLINTON: You know, I think that the world is so complicated, the fewer corners that you can have, the better.
STEWART: Do you prefer to sit in traffic or cause it?
CLINTON: I really hate to cause traffic, and sometimes I do. And I deeply regret it. I'm telling the world right now. And when I have overeager police who are accompanying me who are so great and they're doing their best job, I sometimes have to crouch down, get on the floor. You know, I start this book talking about getting on the floor, hiding, trying to go to a secret meeting with Barack Obama. That happens to me a lot. So I prefer not to cause traffic.
STEWART: You actually travel like a kid sneaking into a drive-in theater?
CLINTON: I try to. And you know, sometimes a little disguise so then I can look out the window but nobody will know it's me.
STEWART: Well, let me ask you the final question: Do you enjoy constant, non-stop criticism?
CLINTON: Enjoy is probably the wrong word.
STEWART: Expect?
CLINTON: Expect, survive, live through. It just sort of comes with the territory.
STEWART: It does come with the territory. So, it sounds to me like, if I may, you've declared for the presidency.
CLINTON: HAHAHAHAHAHAHAHAHAHAHAHAHAHAHA
P.S.语音纠正的邮件我争取在周末回复完QAQ